Award Presented at The NAPA / ASPPA 401(k) SUMMIT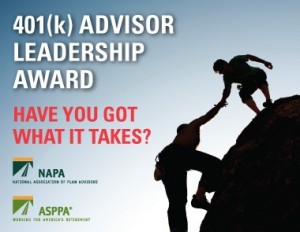 ARLINGTON, VA (January 31, 2013) The American Society of Pension Professionals & Actuaries (ASPPA) and the National Association of Plan Advisors (NAPA) announced today the names of three finalists in the running for the 401(k) Advisor Leadership Award. The award recognizes leadership, innovation and influence by a leading financial advisor in the 401(k) marketplace.
Sponsored by NAPA and ASPPA—leaders in retirement education and advocacy— the award reflects the multi-faceted efforts of advisors to serve their clients (plan sponsors and participants), act as a mentor, maintain high ethical standards, and consistently improve their practices and services in the retirement industry.
In its sixth year, the 401(k) Advisor Leadership Award continues to recognize leadership, innovation and contributions to the retirement plan industry with the sales, marketing and establishment of 401(k) plans. Award Recipients are known for going "above and beyond" to exemplify a key pursuit of ASPPA—to directly impact the ability for Americans to build a successful retirement, especially through employer based plans.
The three 2013 finalists are: Jania Stout, Retirement Plans Practice Leader and team of Fiduciary Consulting Group @ PSA in Hunt Valley, Md.; Chad Larsen, President and team of Moreton Retirement Partners in Denver, Colo.; and Michael Kane, Founder & Managing Director and the team of Plan Sponsor Consultants in Alpharetta, Ga.
One of these three finalists will receive the 2013 401(k) Advisor Leadership Award during The NAPA / ASPPA 401(k) SUMMIT on Monday March 4 in Las Vegas, Nev. Finalists were selected from more than 65 nominations submitted by their peers and colleagues in the retirement industry.
For additional information, contact Melinda Semadeni, Director of Media Relations at ASPPA at [email protected]  or (703) 516-9300, ext. 130.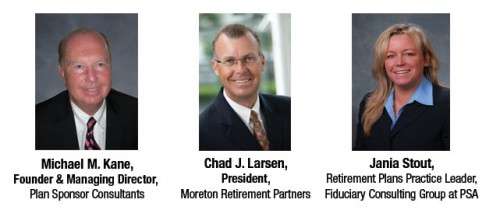 # # #
The American Society of Pension Professionals & Actuaries (ASPPA) is a national organization of more than 11,000 retirement plan and benefits professionals that serves as the educator, voice, and advocate for the employer-based retirement system. ASPPA members are administrators, actuaries, advisors, attorneys, accountants, and other financial services professionals who provide consulting and administrative services for qualified retirement plans. www.asppa.org
The National Association of Plan Advisors (NAPA) is an affiliate organization of the American Society of Pension Professionals & Actuaries (ASPPA). NAPA was created by and for retirement plan advisors with a specific purpose—to provide plan advisors with greatly needed advocacy, business intelligence and superior networking opportunities. Membership is open to all retirement plan advisors and support personnel. NAPA's mission is to be a leader in the evolution of the national retirement system to improve transparency, effectiveness, and governance in an effort to improve the retirement outcome and security for participants. For more information, visit www.napa-advisors.org and www.napa-net.org

Category: Member Focus